What were they thinking?
After the details of Al Michaels trade from ABC to NBC for a cartoon Character were released--the details of how DMBC acquired Kevin Bussey from FBTC in Mobile, AL are trickling out. In a stunning turn of events Chris Berman of
ESPN
quotes a credible source indicating that DMBC had to trade the world's largest pig "
GUS
" to obtain the rights to Bussey. Gus was to be used at the church's annual pig pickin' next month. According to the source, DMBC gave Gus, a bottle of Eastern NC barbeque sauce, 50 pounds of smoked bacon and a swine to be named later in order to obtain the rights to Bussey. FBTC was trying to get under the "Salary Cap" and now has "cap room" to make moves in "free agency."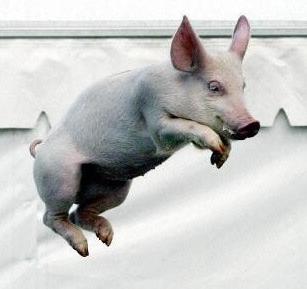 Chris Mortenson of
ESPN
reports that FBTC also wanted "
Sluggo
" the flying pig but DMBC refused to budge without the addition of
Neil Elmore
and
Joe Kennedy
whom FBTC was unwilling to part with. John Clayton of
ESPN
feels that DMBC can now be a credible player with the addition of Bussey. It remains to be seen who got the better deal.
posted by Kevin Bussey at 2/10/2006 11:23:00 PM